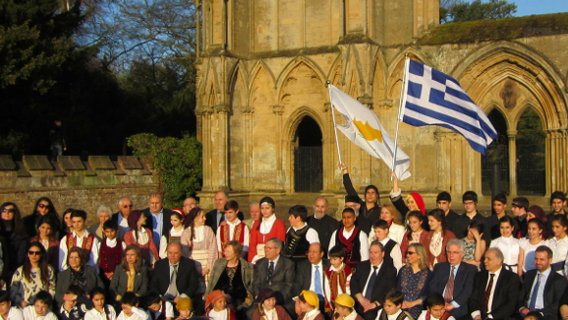 Many of you will have been aware that GCSE and in particular, A-Level examinations in Greek were seriously under threat. You will recall that it was a matter raised in the Question and Answer session with Mrs.Maria Papalouka, the Inspector of the Cypriot Educational Mission at our Greek School last week.
We as a Greek School have ensured that we made our representations where appropriate. This also included the direct representation by members of our committee to the Secretary of State for Education, local Members of Parliament and in some cases even candidates.
We are delighted to announce that following a long campaign, the Department for Education has announced that it will continue to provide the option for students to study the Greek language at GCSE and A-Level.
Education Secretary Nicky Morgan said "One of Britain's strengths is its rich, multicultural nature and ensuring young people have the opportunity to study a wide range of languages is integral to that.
I am delighted that these languages will continue at GCSE and A level. Learning a foreign language opens up a whole world of opportunity and ensures our young people will be able to compete on a global scale.
I also want to thank those exam boards who have worked with us to protect these languages so we will continue to have high quality qualifications available."
Our local Member of Parliament & friend of Cyprus, Julian Knight MP for Solihull, committed to the cause as a candidate before joining Parliament. He said today "I am delighted that this long running campaign has been successful. The Greek Community play an incredibly important role within the UK and I think that knowledge of this most ancient of cultures is vital to us interpreting our World around us".
Our Chairman, John Stylianou has expressed his satisfaction in the efforts and states "we are naturally delighted that we have secured the future of the Greek A-Level and GCSE. We as a school and examination centre will strive to repay the faith that the DFE & the exam boards have shown in continuing to deliver the excellent standard in education."
We are grateful for the support of our friends in this campaign, notably alongside Julian there was top level support from The Rt.Hon.Theresa Villiers MP & Sec State for Northern Ireland and David Burrowes MP, both long standing and vocal Friends of Cyprus. The campaign had the added interest and support of Zac Goldsmith MP, the Conservative Candidate for London Mayor, whose campaign manager, former MP Nick De Bois, spearheaded the campaign before the general election. It has to be noted that Mr.De Bois, did not abandon the cause despite losing his seat, to him we are especially grateful.
A great deal of work was put into the campaign and its success is in no small part shown by the direction and coordination of Mrs. Maria Papalouka of the Cyprus Educational Mission.
For further information read May's newsletter (pages 2, 3).